It's tough to find a place that is still serving dinner at 10pm that doesn't involve elements of your meal being referred to as a size or if they're shoving the bill in your face to flip the tables for scantily clad young ladies and bra-strap headbanded boys to perform their winter repressed mating dances. I found myself opening the door to a modest Korean restaurant on upper lachine road – the last place you'd think of a Korean restaurant. Many things struck me right off the bat. It's one thing to walk into a restaurant and smell food, and it's a nothing thing to walk into a restaurant and smell cooking. Walking into Chez Hwang is like walking into your aunt's house for Chinese new years dinner. (That's if you're Chinese… or celebrate Chinese new years, in that case, substitute your own ethnicity and occasion where food is involved.) You know the aunt that takes the time to make everyones favorite dishes, the ones that your mom doesn't make because it requires too much to work or involves deep-frying, yeah, that one. Well if you haven't heard, she became Korean and opened up a Restaurant called "Chez Hwang".
The atmosphere is intoxicating, the smell of meat being grilled, vegetables being fried, clatter from the kitchen, and visions of a oxidized Korean poster girl pedaling a beauty product; this equation is love.
I was taken a aback to the size of the place. Since we got there near the end of the night, there were only a hand full of tables being occupied. The waitress told us to seat ourselves, and I guess the vastness of the the place was overwhelming or image of the inevitable grilled short rib rendered me dumb because I stood there for a few seconds confused as the place was almost empty and I still didn't know where to sit.
We looked over the menu and there were a few dishes that I've never seen on a menu before. But this night was not a night to experiment on new dishes, test the plumbing at home, for we were hungry and were set out to eat. However, we did feel adventurous and ordered the braised pork hock.

The portion is insanely generous. The hock is the leg and knuckle of the pig. I've been trying to think of how to describe the taste and preparation of this dish, but I gave up. Can't really describe a recipe that is obviously kept close within the family. I knew we made a good decision on ordering this dish when it promptly arrived with the side dishes. For it to be ready so fast, I can only assume that this dish is ordered often enough that warrants them being on call. Perfect combination of meat and fat with the tender bite of tendon, served with a sweet dipping sauce – which I found unnecessary because it just washed out the flavor of the pork. I should also mention, this behemoth of a dish is listed as an appetizer. You'll definitely be able to share this amongst 3 people comfortably, although I can see myself finishing this off with a bowl of rice, a cold beer and a hockey game.
Like I've said before, I don't mess around when it comes to short ribs, and apparently neither does Chez Hwang. You know they mean business when a dish is served up with pruning shears. Knives require too much effort in cutting meat. Contrary to the repetitive sawing motion, a simple snip is more effective to minimize the stone-plate to mouth transfer time. If I was able to some how fabricate a Star Jones-like Kripy Kreme intravenous I would, but the question of dignity is at hand, more so after the fact that I ate this dish with my hands. That being said, scroll slowly and eat it alllll up, glorious pixel line after glorious pixel line. If you concentrate hard enough and you hear angels cry… BEHOLD:

Another one of my favorites, fried Mackerel. I know a lot of people are already hesitant about eating fish in fear of the "fishiness" of it. From my experience, when grilled or fried, the fishiness is amplified. This phenomenon is what makes mackerel so damn tasty. Simply seared and fried with minimal seasoning, this dish straight up brings the funk.

One of the dishes came with a miso based soup which had tofu and potatoes in it. Really hearty and I can imagine having it on it's own on a cold day, wearing a thick sweater and no shorts.

We were also served the obligatory side dishes (banchan), two of which I've never had before and one of which I fell in love with and almost got naked and rolled around on the floor with.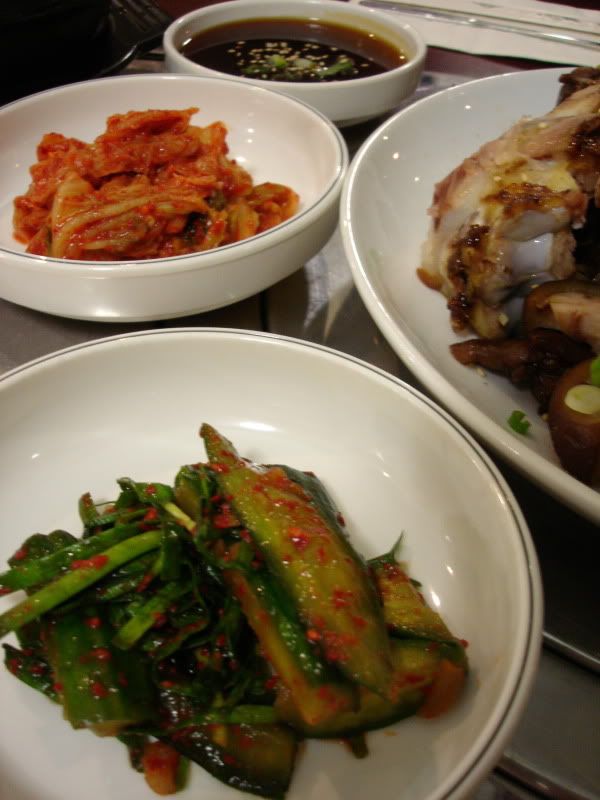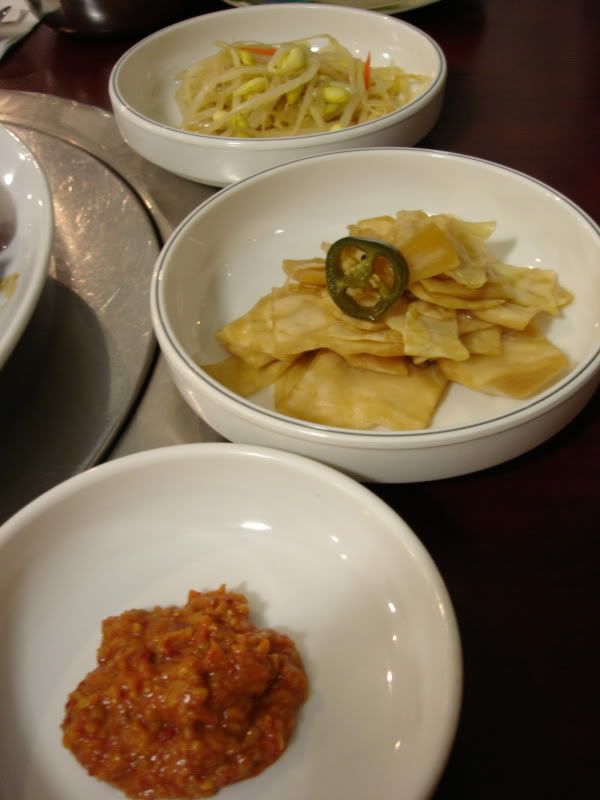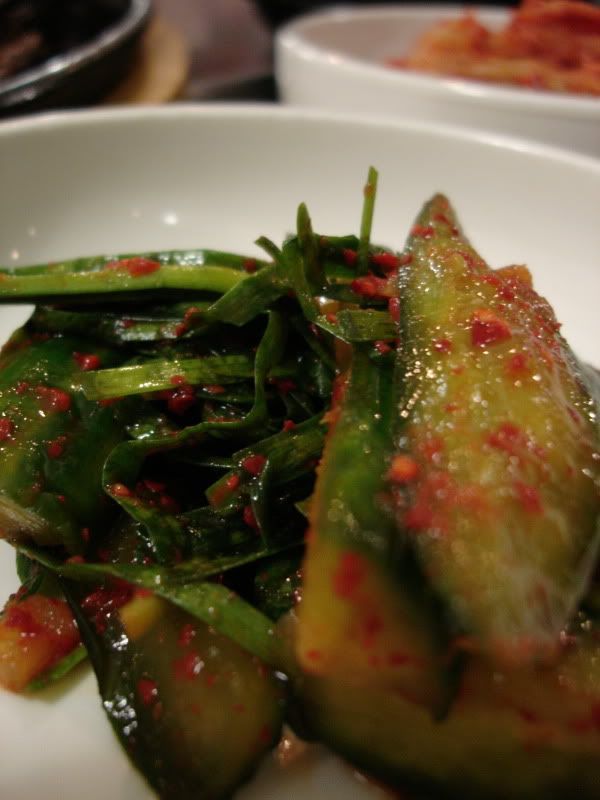 This side dish was the culprit of making me face the decision of whether or not I want to risk being thrown out for indecent exposure. I asked the waitress the name – which now escapes me – of this dish. She told me and explained to me that it's made from soy beans and spices. So if you happen to know, please pass it on. I kid you not, I didn't shut up about this side-dish, which i soon found out was a dip for the short ribs, but until then I was slapping it on my rice and eating it neat.

It doesn't matter whose family it is, but a home-cooked meal is always hard to beat. Restaurant Chez Hwang is a cozy family run business in NDG. There's nothing better than leaving a restaurant feeling emotionally satisfied and physically full. It is definitely like eating at a relative's place because you'll be leaving with a loosened belt and a bag of leftovers. With the mix of carefully grilled short ribs, tenderly braised pork hock and side dishes worthy of parental advisory, this meal was completely and entirely an outer body experience. Eating here I totally had a Neo-matrix experience. You know that scene where Neo finally "gets it" and starts to see everything in that faux Asian character code? Exactly like that. Staring at those sizzling plates one after another, everything just made sense. Planets aligned. Nothing else in the world existed to me in that exact moment except me and my tin bowl of rice and the plates of love.
Restaurant Chez Hwang
5545 Chemin Upper Lachine
514.484.5263


p.s I should also mention that they also serve Korean BBQ and that they have an all you can eat option only for 6 people or more.