So you would think that the snow should let up anytime soon right? Nay, we live in Montreal where the weather is as temperamental as our road rage and as unpredictable and the Habs. So in the plight to stay warm, three of us found our way to Chinatown in search for food.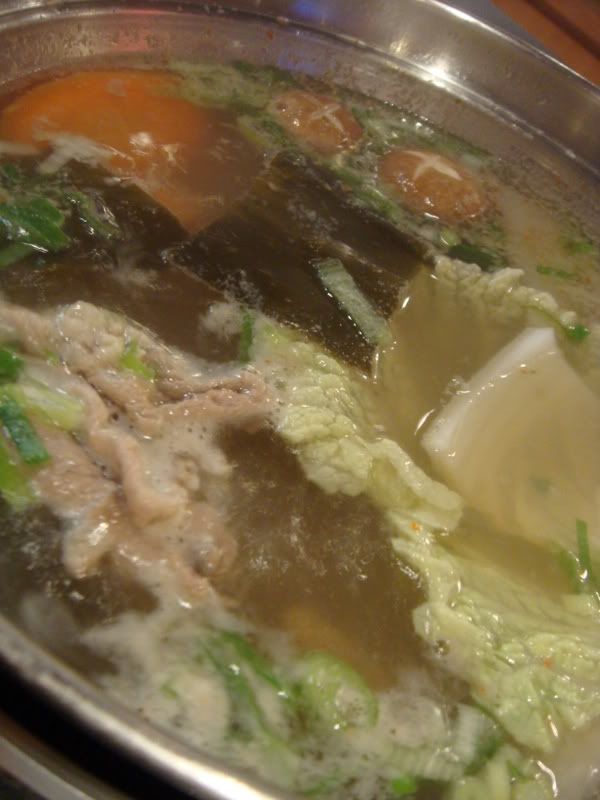 I was saying how there is exactly three restaurants in all of Chinatown that I have yet to go to, this being one of them. I always thought it was rather funny to have a Japanese shabu shabu place in Chinatown. But in retrospect, it's not that funny at all. Our Japanese community isn't big enough to justify a district of the city called Japantown, however there is that stretch of Sherbrooke street in NDG that I like to call "Little Korea". So we asians gots to stick together, the wars are over. So we decided to go to Hanashima.
"Shabu shabu" in Japanese is translated to "splash splash" in English. Better known as "hot pot", you're presented with a plate of raw ingredients and you basically boil your food in a pot of simmering broth. As with the last place I went to (Korean BBQ) this theme of cooking your own food is totally unintentional. In hindsight, I think it's pretty funny to pay to go cook your own food, and then have someone clean up after you, kind of like when you were a kid and tried to cook for the first time and had someone follow you with a mop.
We walked in and immediately noticed the seating configuration. The place features a giant "U" shaped bar, with integrated induction burner hot plates. Guests are seated around the outside of the U while the waitresses are busy shuttling food and plates back and forth from the kitchen from the inside. There were also little tables for small groups in opposite corners of the room. Cozy, however I would find myself feeling awkward after my waitress has finished setting up my food and then I'm left sitting facing a wall having lateral conversations with friends while we're all sitting next to each other in a row. Although, if you're lucky enough, you might be placed in the other corner facing a small sun-oxidized picture window overlooking a field with a light blue and purple mount Fuji. We sat at the U.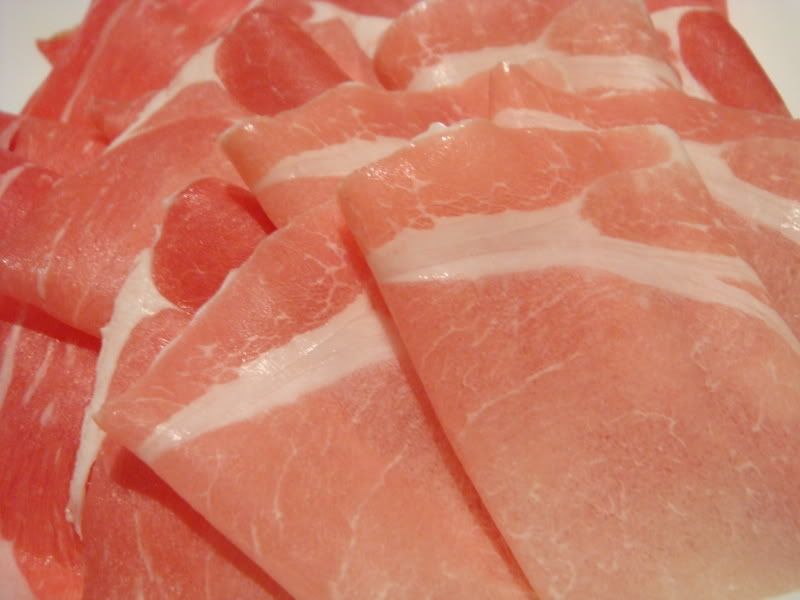 There are various combo meals. Beef, pork, lamb, seafood and vegetarian. Each of these come as a large serving or small serving. What made me laugh was the fact that the beef combo had two options. A regular beef combo at $8.99 and a "Grade A Beef" combo for $12.99. Wait a minute… what exactly is in this four dollar upgrade? Despite the fact that we're in a Japanese restaurant, we're still in Chinatown. Give it to me straight, are we really eating cats and raccoons for $8.99? Cos if that's the case, as my friend said, bring on the cats and raccoons cos they sure are tasty!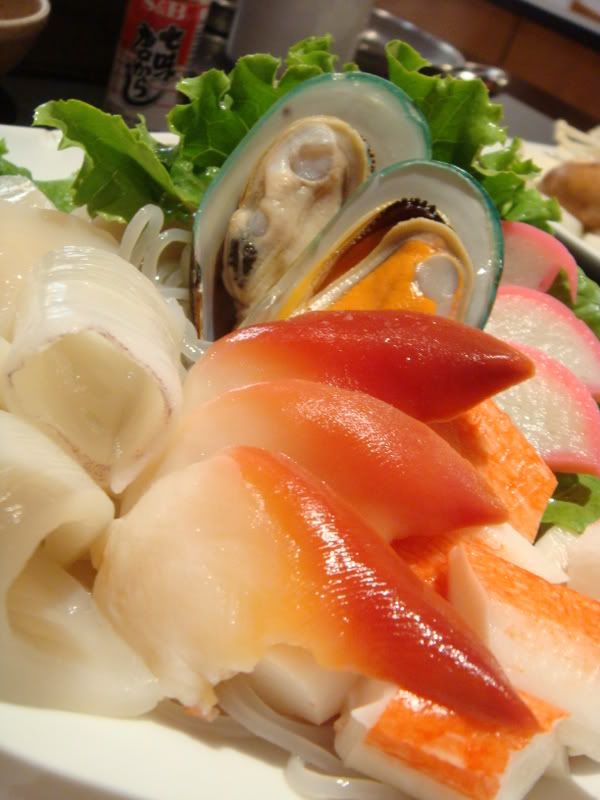 I had the seafood combo. It included, mussels, squid, scallops, crab, surf clams, salmon, snapper, as well as fish cakes and two types of udon. This was more impressive than the vanilla looking plates of beef and pork my friends had.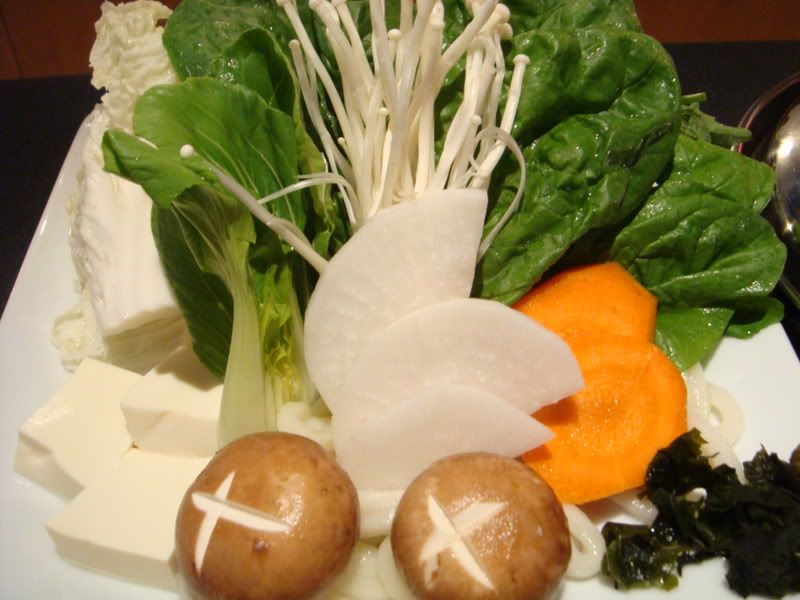 All meals came with a platter of mixed vegetables including fresh button and Enoki mushrooms, lettuce, daikon radish, tofu, napa cabbage as well as udon noodles.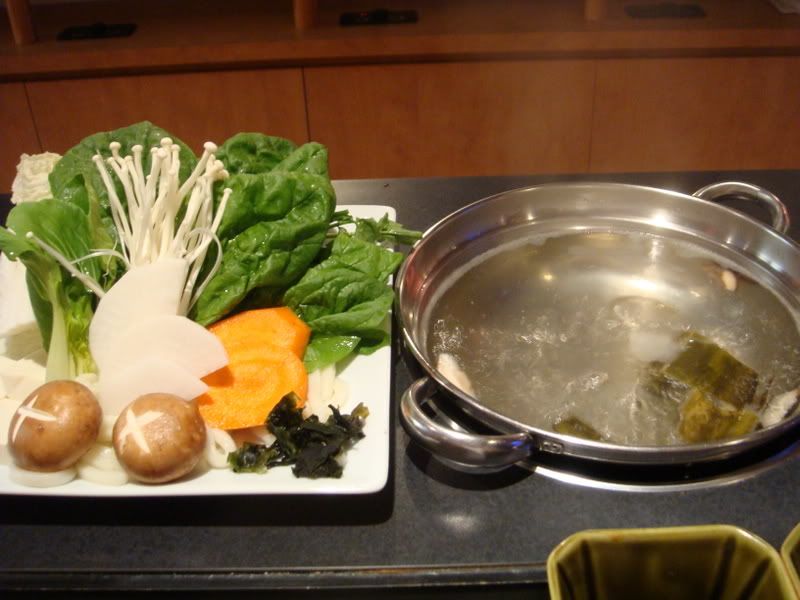 The combos are also offered in a choice of three soup bases, chicken, the traditional kelp as well as a spicy option. We all chose the traditional seaweed soup as it was our first time shabuing and had to keep it gangsta.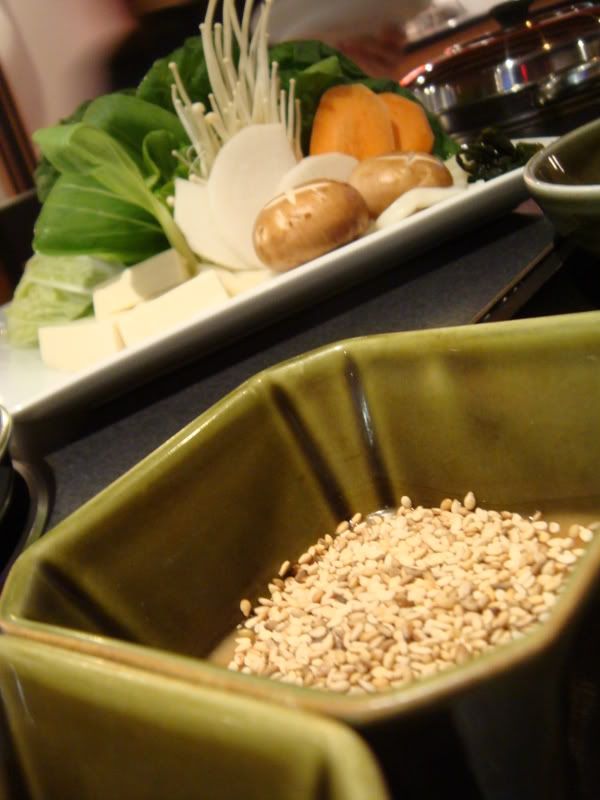 Everything came with two different kinds of dipping sauce. The first was a "Goma" – sesame sauce and the other "Ponzo", which I deduct to be a form of "Ponzu" sauce because it was tangy in flavour and soy sauce based, unless it was just a spelling mistake.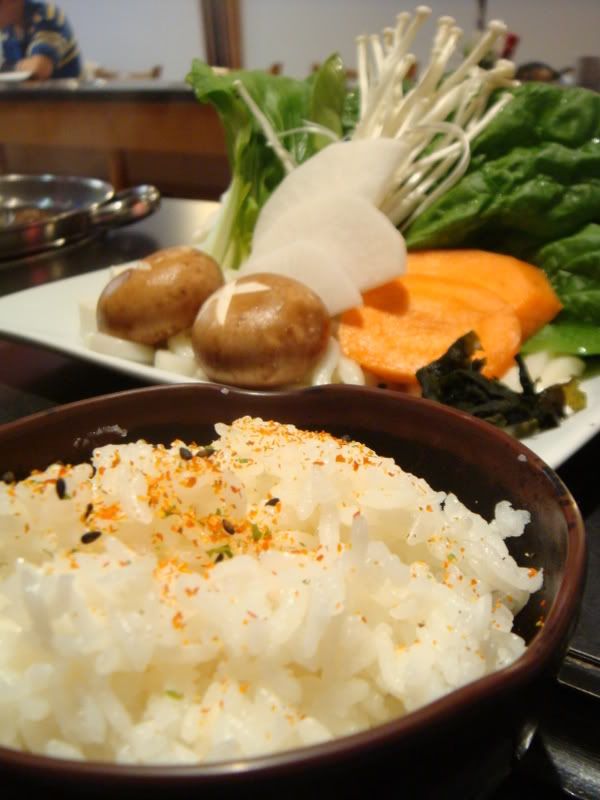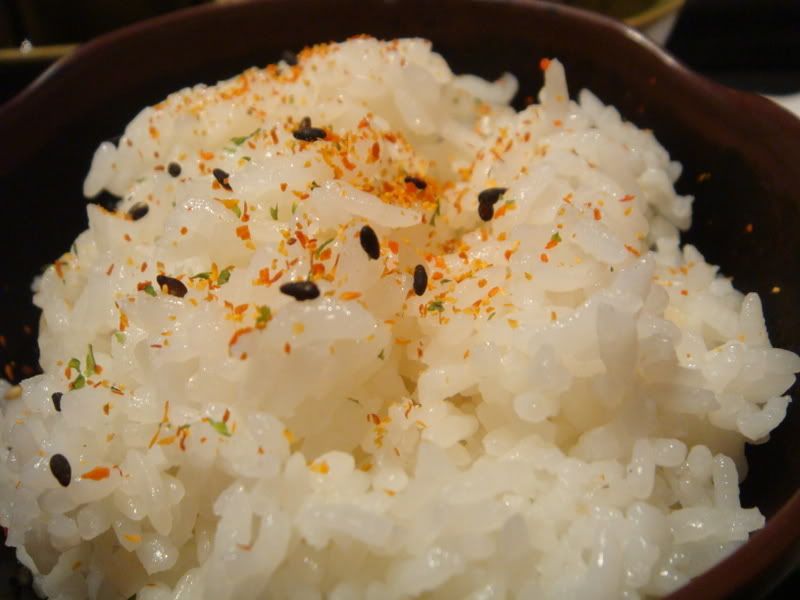 What Japanese place would it be without Furikake (rice seasoning)! Dried scallions, black sesame, bonito flakes and dried masago and chili. YES! It tastes as good as it is fun to say. FURIKAKE… FURRY-KAKI…. Eh hem, maybe it's just funny to me because I used to call a bathroom function as "making kaki"… nevermind.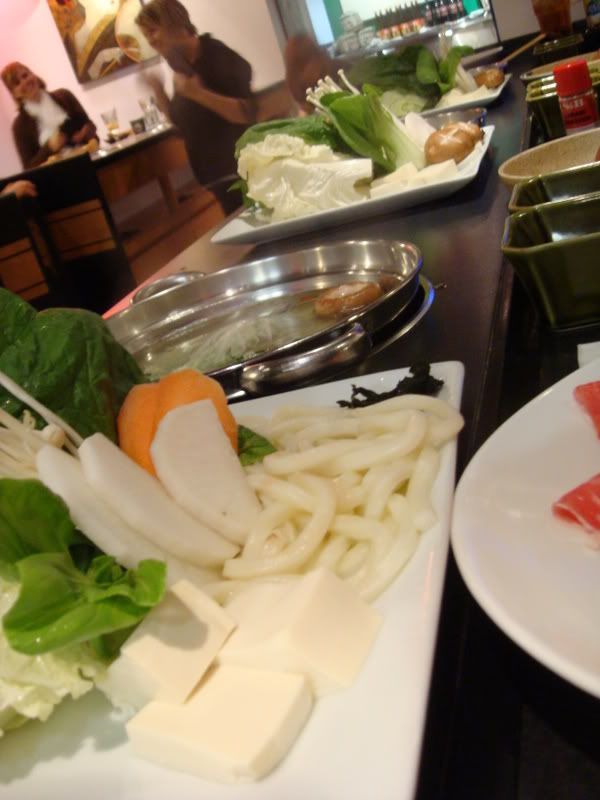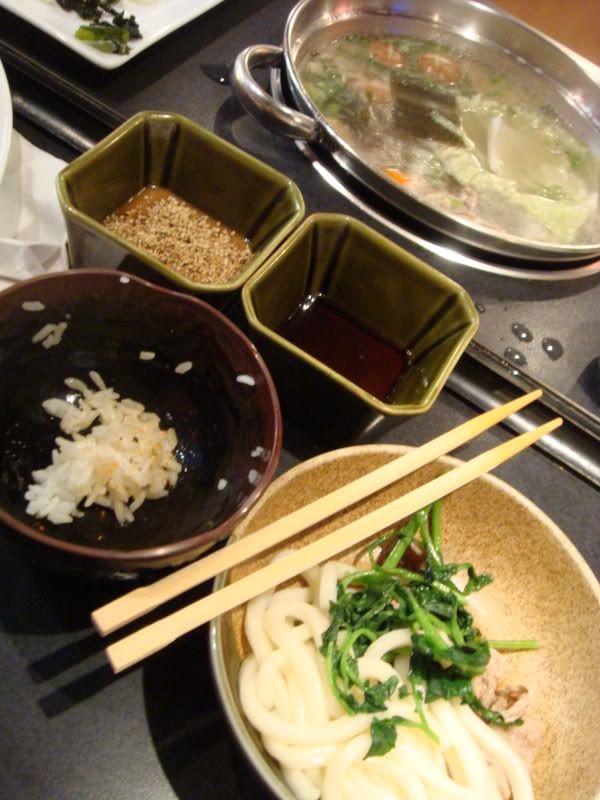 All in all, it was a great experience. It was nice to get off the pace of the all you can eat hot pot places that are around the city, and especially when the unfriendly weather is creeping outside, Shabu shabu is a kind welcome to the blistering wind and pavement whitening temperature. Oh yeah… did I mention it's NOT all-you-can-eat? So if you're hungry, I suggest you order the large platter combo, although extra dishes of raw ingredients are always an option if you're still hungry, at a reasonable additional cost. The food was fresh – as it came right from the kitchen – which is a great relief as opposed to the other places where they sit in open refrigerator units or in a hotel pan full of ice. So if your hankering for some hot pot goodness without the stenchy aftermath then Hanashima has the non shabby shabby shabu shabu for you and you.
Hanashima – Shabu shabu, Fondue Japonaise
75 De La Gauchetière
514.396.4746