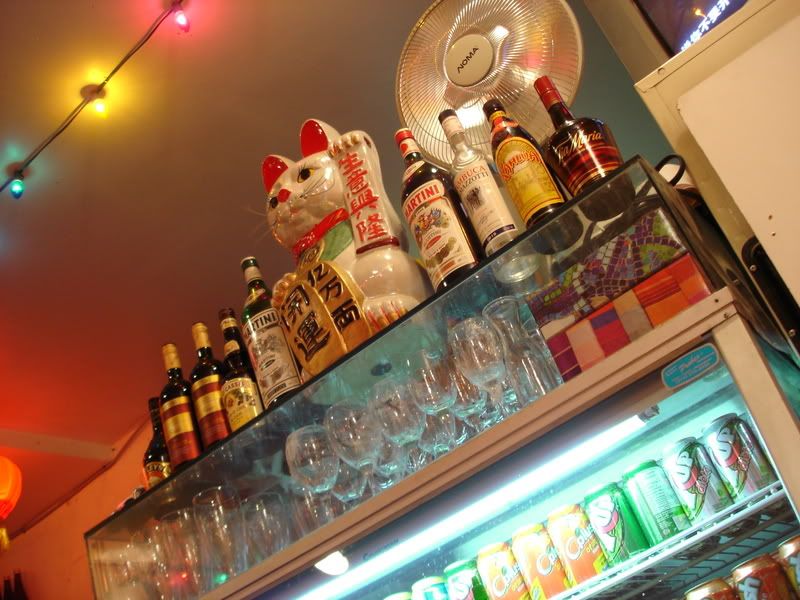 I met Dan for dinner after work. We headed up to Cote des neiges for "fun pei". Lao Beijing, which translates to "Old Beijing" is a tiny hole in the wall, family run eatery on Cote des Neiges. Situated on the corner of Dupuis, one street south of Cote St. Catherine, might seem odd for a Chinese joint that's over shadowed by a catholic church, a bunch of University bars and the Jewish General, however, don't let the basement location and shabby decor deter you from the wonders of authentic Szechuan cuisine.
I've been there numerous times and I feel the need to shed light on this place because it does not have enough online representation. This is the kind of place where you might need a bookmark to get through the novel of a menu, however, though tough choices, you will rarely make a wrong decision when ordering.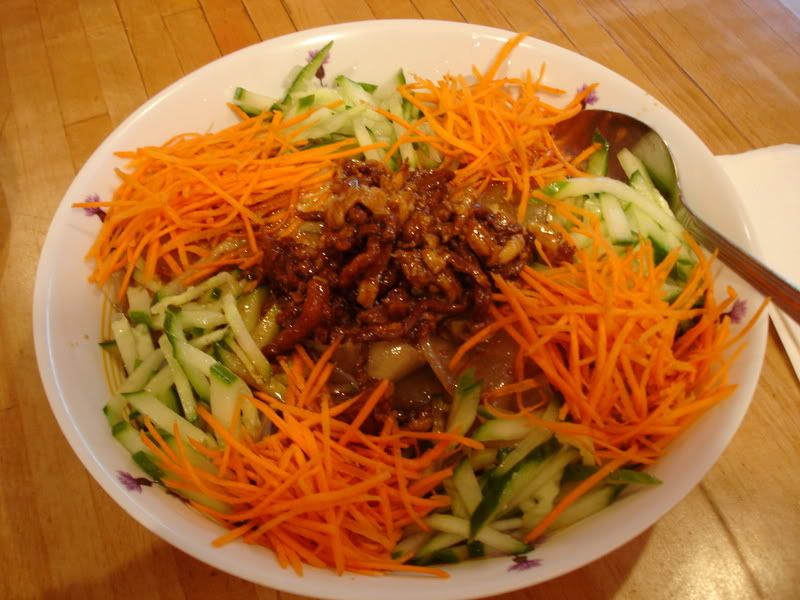 We started with what is called "Da Li Pi", which we Cantonese call "Fun Pei" – Noodle skin. Broad rice noodles with fresh cucumbers, carrots and salted pork in a sesame and soy dressing. Being a chilled dish, I will categorize this as a noodle salad. I learned the hard way not to wear white when eating this dish. I walked away with what seemed like a buck shot of soy sauce on my shirt.
You know you're in a good Chinese restaurant when then staple table condiments include homemade cooked chili oil. A process of which uses the "cooked" cooking oil (after draining off of deep fried items) and then sauteeing and frying up dried and fresh chili peppers in it. I highly suggest drizzling this chili oil over this noodle dish. It adds the "Je ne sais quoi" to the already "Je ne sais pas" of this dish.


Our next dish was Tripe with Coriander. They were out of coriander and checked with us first if they could substitute it with something else. I've had this dish before and whatever they would do to it, I was certain that in no way shape or form would they mess it up, and I was right. The substitution was with Chinese spring onions and leak. This dish is usually in the spicy side, but we opted for the non-spicy version, for we both had important appointments the next morning and could not afford to be breathing fire, 12 hours later.


The tripe was crunchy, yet tender. Every mouthful was accented by the subtle ginger and white pepper sauce that lingers in your mouth just long enough until the next bite.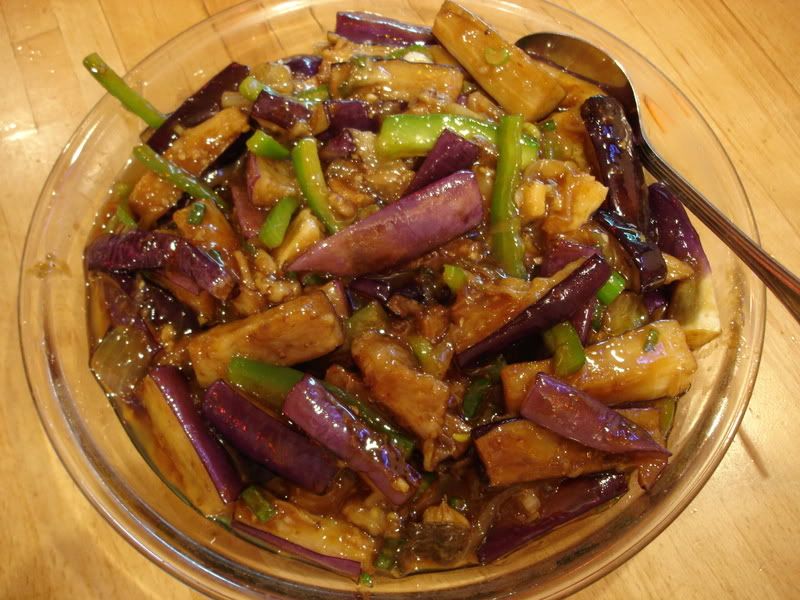 Our second dish was Fried eggplant with peppers and salted-preserved fish. If you've had salted fish before, you'll know what I'm talking about, if you've never had salted fish before, then order this dish and consider the loss of your friends totally worth it. The eggplant is flash fried in oil, tossed with onions and peppers then cooked with ground pork and salted fish. A smooth mild chili and hoi sin sauce finishes off the dish.

We were discussing the quality of their salted fish. As with most salted fish bought in stores, theirs was not as pungent or kick you in the stomach fishy and hard to the bite, this led us to believe that Lao Beijing might be salting their own fish. Something that is extremely admirable because this process is not easy. Dan and I drew this conclusion based on the texture and the bones left in the fish. Normal bought salted fish is hard and turns into a powder or paste when you bite down on it and sometimes the unpleasantness of biting into pin bones due to the fish being dried whole. However, their salted fish was chewable and firm, which suggests a shorter curing phase which led us to believe that this salted fish was made in-house.

I'm a firm believer that Chinese food does not only consist of General Tao chicken, sesame beef or egg rolls and fried won tons. The grittiness of authentic Chinese food is what the general public is missing and Lao Beijing fills that void. However, the entire menu is not as exciting as these dishes. They do provide your lemon chickens and chicken fried rice for the less adventurous people. As with all Szechuan cuisine, this place serves up FIYA, straight up slap-your-mom-in-the-face-spicy. Toning down upon request is cool with them, but be sure to flip up the lid on your tea pot which signals a refill on water. The chili-heads of Montreal rejoice. Here is a great place to fulfill your burning desire for your spicy vice.
…another thing. GO.HERE.HUNGRY! With over generous proportions (to match the hospitality no less), Lao Beijing serves it up big and don't be surprised when you're walking out of here with doggy bags.
Restaurant Lao Beijing
5619, chemin de la Cote-des-Neiges
514-731-8978